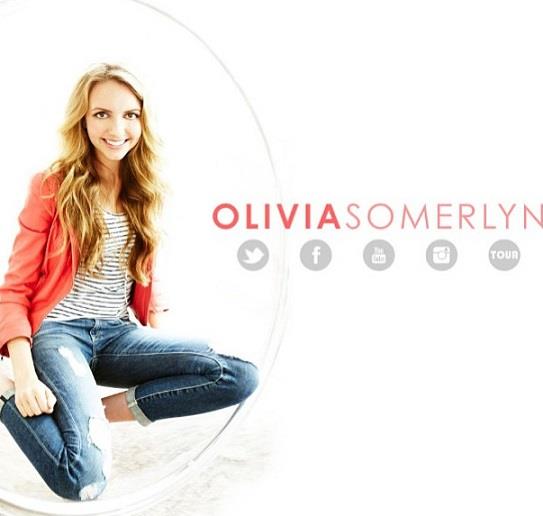 There's a reason Olivia Somerlyn's official website is mostly just links to various social media. She's on them all the time, responding to virtually every fan comment about her on Facebook, YouTube, Instagram, Twitter and more. Even the negative comments.
Why does she do that? Because the 18-year-old singer -- about to embark on a tour Friday with Big Time Rush -- is just about the most unfailingly polite person in the world.
After an EP in late 2010, Somerlyn is back. Her new single, "Better With You," is out through iTunes today, with an EP due later in the year. The San Francisco singer/songwriter/pianist just won a "Fresh Artist" award from TeenNick and promotes organizations to empower girls and help pets.
It is a whole new world in the three years since she put out her debut, reflected in her rampant use of social media. She answered a few questions during rehearsals for the Summer Break Tour.
With the Summer Break Tour you're going to be playing in venues far bigger than you've done before. Any nerves about that?
"Oh, absolutely. I've only really played shows around L.A. and playing piano and singing at my school. It's definitely a huge step up. ...but I have to be more excited than I am nervous because this is so special."
And you'll be playing the historic Gibson Amphitheatre before it gets torn down.
"Right! Isn't that so sad? It's for Harry Potter World and I love Harry Potter and I'm excited to visit Harry Potter World, but i'm really going to miss the Gibson Amphitheatre. It's opening night, so that's gonna be so cool anyway. I've seen a few shows there. And now it's going to be torn down... I'm one of the last people (to play it)."
Your last songs had difficulty getting traction. Did you think about giving up music?
"In anything there's a time when you think 'What's the point of doing this?' The fact that I'm so passionate about it and I've put so much into it now I can't imagine leaving it behind. ...There are moments when I'm so thankful that I didn't stop when it seemed like there wasn't much hope."
What attracted you to music?
"I've always really loved music and really interested in playing it and writing songs. I had lessons early on but then I wanted to make up my own things rather than learn what was in songbooks. It'll go faster if I made up my own stuff. I stopped for a while but came back to piano when I was 13, teaching myself by ear. ... after that I started learning guitar, a good change to write on sometimes."
Were there  role models that brought you to it?
"Sarah McLachlan and Joni Mitchell were definitely two that I would say were piano inspiration, but also Coldplayfor sure. I love Coldplay ... my tastes are so eclectic it's hard to pick a few artists. It's more like songs." You use social media more than anyone I've ever seen. How has that worked out for you?
"I think it has been great and I know people who keep coming back and talking to me... I know them by name, I know all about them. It's like having pen pals all over the world. At this point it's not so overwhelming that I can't have a personal connection with everybody. I love that... Twitter is probably my favorite just because it's so easy to communicate back and forth. Facebook too. But I'm always replying to everyone on Twitter. Wherever I am, people will stop me and say 'You're the fastest typist I've ever seen!'"
How do you plan to not derail your career the way so many others have through arrests or even just an errant Tweet?
"It's so hard for everybody who ends up being very successful, because it's like they're under a microscope. Like you said, they aren't really thinking or say something the wrong way that doesn't come off right online and get a lot of backlash. ... I just tend to feel positive feelings about everybody and most everything... even if I get a negative comment or two, I'll reply with something positive and it will turn out fine. They'll reply back and say 'OK, I guess you're pretty cool after all.' You turn the whole thing around. That's my philosophy about it."
Do you worry about getting lost in the shuffle? The burn-rate of celebrity is so high these days.
"I wouldn't say it concerns me. It's just different now because there are so many outlets to be seen and heard. That's why i took so long with my music. ... in terms of music it's sometimes easier to stay around for a while. You can do new things. But it's hard with like reality TV and acting. Music might be the safest route to take."
Here is her new video -- again, using social media. She crowd-sourced her fan base, asking them to send in photos to go with each lyric of the song. The results are below